DIY LED "Framed" Mirror | Modern Builds | EP. 74
How to Backlight a Mirror
Three Parts:
Backlit mirrors add a decorative ambiance to any room's décor. You can backlight a mirror for your home by finding a mirror and LED light strips, attaching the lights with some careful measuring, and connecting them to a nearby power source. You'll also need some materials from a home improvement store to get started on this fun project.
Steps
Choosing a Mirror and LED Strips
Obtain a floating mirror.

There will need to be space between the mirror and the wall in order for your lights to shine from behind your mirror. A floating mirror is installed with the right amount of space behind it; you can shop for a floating mirror in department stores or online.

Floating mirrors come with the necessary hardware and instructions to hang them away from your wall.

Buy spacers if you want to use a non-floating mirror instead.

If you choose to use a mirror you already have and it's not a floating mirror, create space behind your mirror by installing either spacers or mounting bars. To use mounting bars, take measurements of your mirror and buy mounting bars at your local hardware store to fit behind your mirror. Or, create spacers of your own by using small pieces of wood that are even in width.

Glue the mounting bars or spacers to the back of your mirror using glass glue, silicone-based glue, or an all-purpose super glue.
The goal of this step is to have your mirror lay 1–2 in (2.5–5.1 cm) away from the wall. Any way that you are able to achieve this, without the spacers being seen from the front, is fine.

Measure the circumference or perimeter of your mirror.

With a tape measure or ruler, measure the circumference or perimeter of your mirror about 2 in (5.1 cm) away from the mirror's edge. You want to be away from the edge so that the lights are not easily seen behind the mirror when they are attached.

To measure the circumference of a round mirror, start at a point 2 in (5.1 cm) away from the mirror's edge at the top and measure to a point 2 in (5.1 cm) away from the bottom. Use a calculator to multiply this number by pi, or 3.14.
To measure the perimeter of a rectangular mirror, measure all 4 sides of the rectangle starting and ending at points 2 in (5.1 cm) away from the corners. Add all of these measurements together.
Write down the final number of your measurement. This is the length of LED strip you will need to backlight your mirror.

Choose warm white 12V LED lights for a subtle effect.

Warm white 12V LED lights are popular for backlighting and are versatile. You will get good light from behind your mirror but it will not be overwhelmingly bright.

Choose this option for a practical backlighting in the bathroom so you can see better when you're shaving or applying makeup.
LED light strips can be purchased at home improvement stores and online.

Go with ultra-bright or colored LED strips for a modern look.

If your backlit mirror is mainly decorative in purpose, you have the choice of buying an ultra-bright LED strip or strips that change color. Try matching colored strips to the décor in your room for a chic look.

Choose this type of LED strip for a hallway, living room, or bedroom mirror as an eye-catching decoration.

Obtain a power source cable that's compatible with your LED strip.

Some LED strips may come with plugs included, but if yours do not, you'll need a connection between the strip and your outlet. Inquire about power source cables for your voltage of lights at the home improvement store where you obtained your LED strip.

If you're not experienced with determining appropriate voltage for your cable, an employee should be able to help you find a matching wiring to attach to your lights for after you've secured them to your mirror.
Attaching Lights to Your Mirror
Flip your mirror over and place the end of your LED strip at your starting point.Flip your mirror over so the back is facing up. Without removing the adhesive backing from the LED strip, place one end of your strip at a point 2 in (5.1 cm) away from the edge like you did when you were measuring.

Pinch the LED strip into a peak at the corners if your mirror is rectangular.

Your LED strip has spaces in between the actual lights and connecting pieces of each component. For a rectangular mirror, choose the open space closest to where you made your first mark, and pinch the strip into a diagonal peak to form a 90-degree turn in your strip.

Repeat this process for your other 2 corners so that your strip now will fit nicely behind your mirror on all sides.
Remember to try to keep your strip about 2 in (5.1 cm) away from the edge on all sides.

Make accordion folds in your strip for gentle curves if your mirror is circular.

Your light strip has open spaces between each lighting component along the strip. Choose an open space and make 2 consecutive folds, 1 forward fold and 1 backward fold, so that the strip begins to curve in the direction of the mirror.

Continue doing this around the entire circumference of the mirror so the lights can lay evenly about 2 in (5.1 cm) in away from the edge of the mirror.

Glue your folds into place with super glue.Whether you folded your strip for a rectangular or circular mirror, you'll need to keep your folds in place with super glue. Add a small dot of super glue into each fold you made and press the fold firmly for about 10 seconds, or until it holds on its own.

Remove the adhesive backing from your light strip and attach it to your mirror.

Once your lights are shaped to fit behind your mirror, you can remove the adhesive strip on the back and begin pressing them down into place. For the places where you made folds, simply snip the adhesive backing with scissors on both sides of the fold.

Be careful to press the light strip onto where you intended; if you have to rip it back up, the adhesive may be ruined and you'll have to glue the strip down instead.
Installing Your Mirror
Connect your lights to your power source cable.

If you have remaining length in the end of your LED strip, clip it with scissors in a location that will allow you to attach the wires from your power source while still being hidden behind the mirror. Attach the wires from your LED strip to the wires for your plug with crimp-on wire connectors, which are available at most hardware stores.

You have the option of soldering your wires together instead of using wire clamps if you are experienced with soldering and have the proper equipment. Remember that soldering will be permanent, as opposed to wire clamps which you can remove if you ever want to switch out your LED strip for a different type of light.

Hang your mirror close to an outlet to manually plug it in.

When your lights are attached and connected to a plug, you can hang your mirror so that the plug reaches your nearest outlet. Rehang a previously used mirror using the hardware that you used on it before, or hang a new mirror using the hardware that it came with.

You're all ready to plug your mirror in and enjoy the backlight effect you created.

Consult an electrician to control your lights from a wall switch.

If you want to be able to turn your lights on and off with the rest of the lights in your room, you'll need to speak with your electrician. They can instruct you in drilling a hole in the wall behind your mirror to run a transformer into the existing circuits in the room, or they may offer to do the job for you.

Tell your electrician that you've created a backlit mirror and you'd like to connect it with rest of your circuits for whatever room that it's in.
Community Q&A
Ask a Question
200 characters left
Include your email address to get a message when this question is answered.
Video: LED Exquisite Illuminated Mirror DIY Installation Video
How to Backlight a Mirror images
2019 year - How to Backlight a Mirror pictures
How to Backlight a Mirror forecast photo
How to Backlight a Mirror images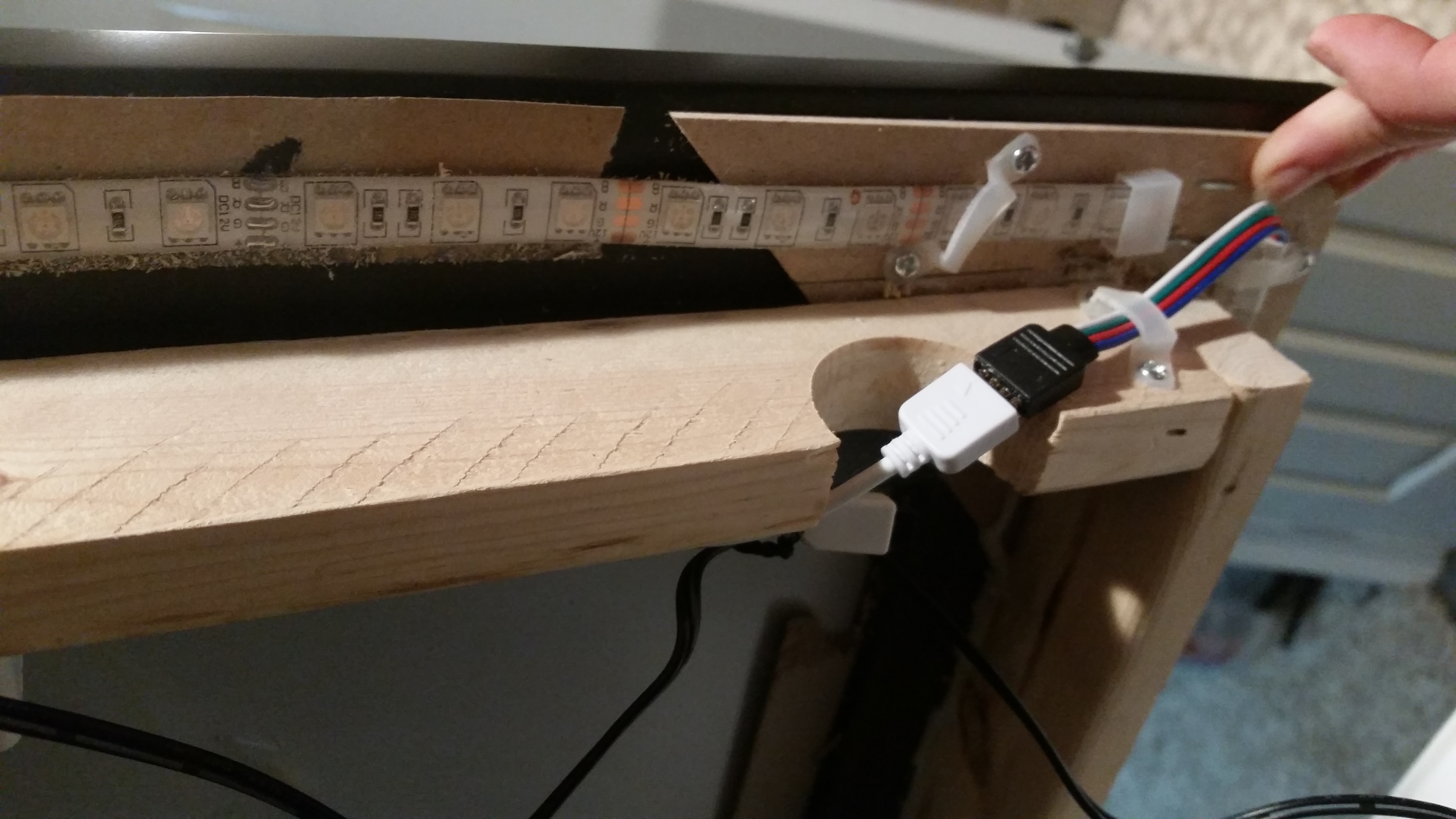 How to Backlight a Mirror new images
foto How to Backlight a Mirror
Watch How to Backlight a Mirror video
Communication on this topic: How to Backlight a Mirror, how-to-backlight-a-mirror/ , how-to-backlight-a-mirror/
Related News
Why Erykah Badu's Remix of Hotline Bling' is Better Than theOriginal
6 Ways That Exercise Can Seriously Improve YourSkin
Whats Wasting Your Wardrobes Time, According to a 59-Year-Old Fashion Guru
The Pros And Cons Of No-Fault Divorce Laws
How to Make Gummy Worms
15 Must-Have Products For Beautiful Wavy Hair
How to Wear Sequins and Look Cool: 35 Must-SeeOutfits
How To Shave Back Hair
40 Luigi Tattoo Ideas For Men – Mario Bros Designs
The 10 Most Painful Conditions
Beauty Recipe: Frizz-FreeCurls
How to Study Edema
Date: 04.12.2018, 12:53 / Views: 43334
---