FIGHTING GERBILS - SPLIT CAGE METHOD
How to Split Cage a Gerbil
Gerbils need company of their own kind and gender, but a single adult gerbil can ONLY be introduced safely to another adult gerbil through the split cage method. This article explains the basics of how to do this if you are left with a lonely gerbil. Please ensure you've read through the sources this article gives and are prepared to give this the care and time it will need. Rushing a gerbil introduction can have very bad results.
Steps
Think about the gerbils.Is your gerbil over two years old and male? if so, you should think about trying to introduce two just-weaned pups instead so you are not left with a lonely gerbil in a few years time (this is the only exception to the not introducing one to a pair or group). What is your gerbil's temperament like? Some gerbils will not accept a cage mate if they've been alone too long, or do not like other gerbils.

Be prepared for the split cage not to work.If it does not work, what will you do with your two lonely gerbils? Make sure you have spare cages or good homes lined up.

Contact your local gerbil breeder or rescue for advice.You may find your gerbil breeder will guide you through the split cage or even do it for you. They should also be prepared to take the second gerbil back if the split cage does not work.

Make sure your two gerbils are the same gender and ideally the same age.With girls, they should also be the same size. Male gerbils are easier to introduce than girls and less likely to declan in later life.

Build a secure split cage.Details of this are in the sources. Ideally start with a double layer of mesh, and remove the first layer after a week if signs look good. This is because gerbils can bite each other through a single layer.

Place a gerbil on each side of the divider.Make sure you have no toys, wheel, or bowls. A water bottle can be taped to the side and food can be thrown loosely into each side (known as scatter-feeding).

Swap the gerbils over several times a day.Do not let them interact whilst doing so.

Repeat for at least a fortnight until you see positive signs.Positive signs include sleeping flank to flank against the mesh divider, grooming each other through the mesh and sleeping in the bed used by the other gerbil. If your gerbil continues to bite at the mesh to get at the other gerbil then they are not ready. Research more on when to know to remove the divider through sources and other articles.

Remove the divider.Monitor very closely and intervene if you see any warning signs such as that listed under warnings in this article. Set aside a full day to watch them.

Leave them in the same cage and add nothing new.If signs are good you can now leave them in the tank together, but do not add anything else to their cage. If they continue to get on you can gradually add more neutral items - if these have been used by a gerbil already then make sure you have thoroughly cleaned them. Add one new item every few days and don't clean them out for a few weeks.

Keep an eye on them.Gerbils can declan later on, even if they are initially stable - but if they've accepted each other they will be much happier with company!
Community Q&A
Question

Will 2 male gerbils fight over a female gerbil?

wikiHow Contributor

Community Answer

Yes, you should only keep groups of the same sex. They will fight until death over a female if not separated.

Question

I had a 6-week-old male and two 7-month-old males and put them all in a general area. It all went well, but should I do this several times and try a cage later?

wikiHow Contributor

Community Answer

As long as there doing fine, they can be housed together, but normally gerbils can smell if another gerbil is an outsider and will fight to the death.

Question

I just got a new, older gerbil and I've been slowly introducing her to my younger female who is about 4 months. The older one is being nice and calm, but my younger one keeps trying get dominance. What do I do?

wikiHow Contributor

Community Answer

Keep the younger one in a different cage for a little bit. Then return them. Wait about 5 days until you put them back. If that doesn't work, wait and see if they get along. My dogs act the same way but they eventually get used to each other. It basically depends on time.

Question

I have two male gerbils who are about two years old. They have been in the same cage for about two days, but not at night, and are acting very calm. Can I leave them unsupervised overnight or not?

They should be fine together. If they have known each other for a while before you got them, they should be fine.

Question

Is possible to introduce two gerbils (that are sisters) to a new gerbil? They are all female and the same age.

wikiHow Contributor

Community Answer

Yes, slowly introduce the gerbils, raising the meeting times if they seem to get along. If they do not get along, get a separate cage.

Question

Is it possible to split cage two 1-year-old male gerbils with a baby one?

wikiHow Contributor

Community Answer

Question

Where do I buy them? I want to breed my gerbils but I have to introduce them first.

Check at your local pet stores or even online. You can find everything on Amazon, and with a better price most of the time.

Question

Is it okay to try to breed an adult gerbil with a 5-week-old gerbil, and on the other side of the cage, two 10-week old gerbils? (All of these gerbils are the same sex)

wikiHow Contributor

Community Answer

If they are all the same sex, how are they going to breed? Even if you did have male-female pairings you should probably check with a vet first to make sure it is okay.

Question

What if you have two older male gerbils and you want to introduce another pair? Is it possible? If so, how?

wikiHow Contributor

Community Answer

Gerbils are very friendly towards other gerbils. To introduce them, first keep their cages side by side, to allow them to sniff each other. When you do put them together, watch them carefully and separate them at the first sign of fighting.

Question

Is it possible to introduce a pair of 10-week-old female gerbils to a 7-month-old female?

wikiHow Contributor

Community Answer

Yes, it will just take time to get them used to each other. Try doing it out of the cage first, then move them in. Make sure to supervise them so you can separate them if there are any problems.
Ask a Question
200 characters left
Include your email address to get a message when this question is answered.
Have a pair of thick gardening gloves to hand in case you need to intervene. Gerbils can bite quite hard.
Don't give your gerbils toys or wheels, or even very thick cardboard. They must not have anything they can scent mark.
Don't give your gerbils food in bowls - scatter feed instead.
Even once the divider is removed, don't give new things straight away. Introduce new, neutral smelling items very slowly.
Make sure you have enough time to split cage. If you start to introduce two new gerbils and then remove the divider without waiting long enough, it's very likely that they will fight to the death.
Warnings
Never leave two gerbils unsupervised when the divider is first removed.
If the gerbils roll into a gerbil ball together separate IMMEDIATELY. This is a fight to the death.
Some people advocate introducing gerbils on neutral ground which ignores the fact that the swapping of sides has made both smell of both gerbils. If you chose this method instead make sure you are watching them very, very careful.
If blood is drawn you must separate the gerbils and its unlikely the split cage will work.
Don't rush into giving the gerbils new toys and space. It can seem harsh, but its better for them to have nothing to fight over.
Only ever introduce a single gerbil to a single gerbil. You can never introduce a single gerbil to an established pair or group, it will be killed.
Only ever introduce different genders if you have thoroughly researched breeding, have good homes lined up for all litters, and are breeding to improve the health or temperament of your gerbil lines. You should also be prepared to have at least two litter so dad can help take care of the first. Breeding should never be done on a whim.
Be patient! Split cages can take months.
Video: Gerbil Care - Bonding & Behaviour | Split Cage Method
How to Split Cage a Gerbil images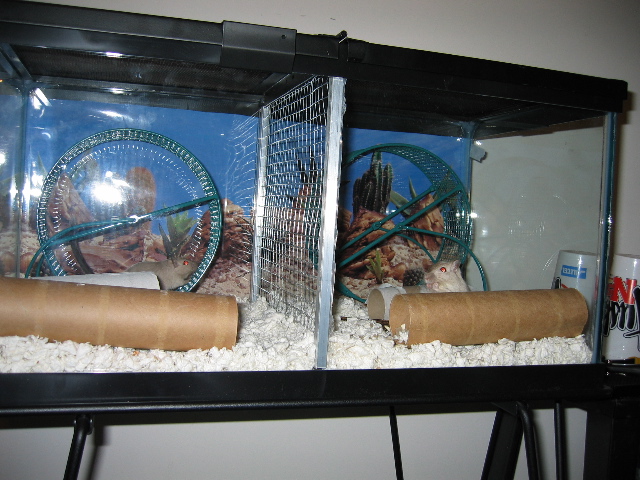 2019 year - How to Split Cage a Gerbil pictures
How to Split Cage a Gerbil recommendations photo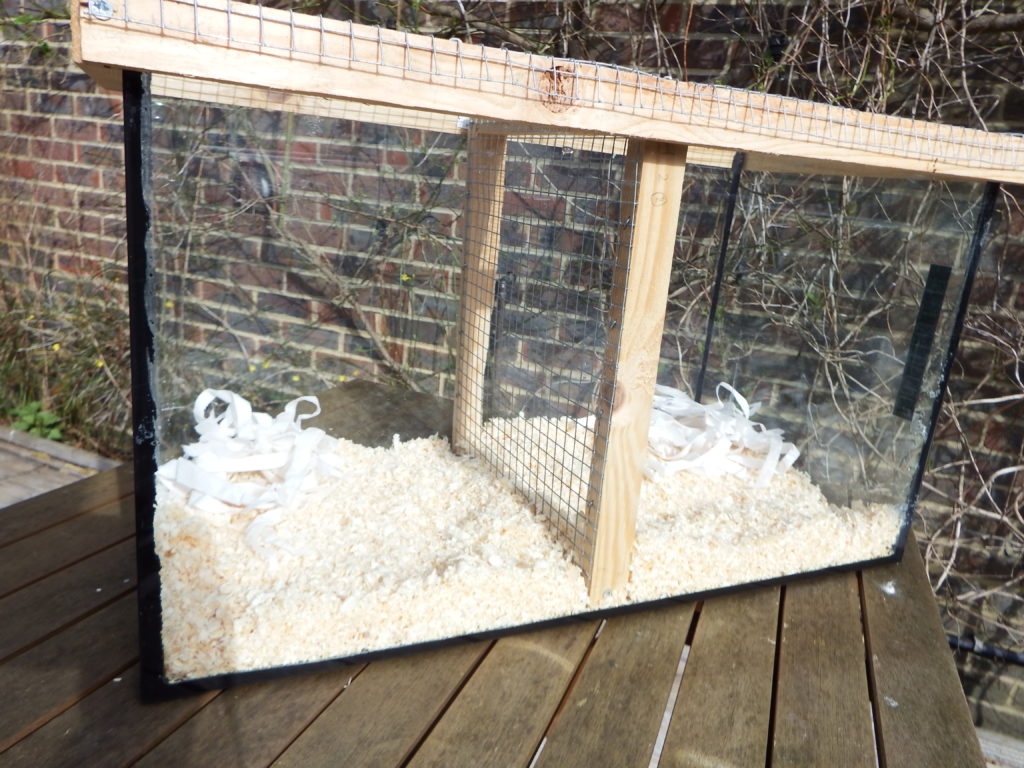 How to Split Cage a Gerbil photo
How to Split Cage a Gerbil new pictures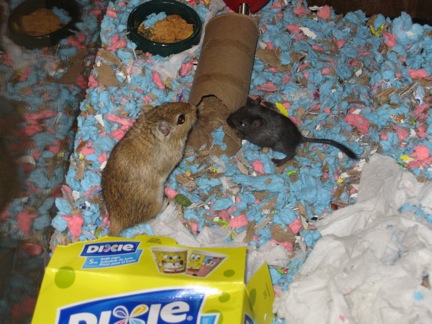 picture How to Split Cage a Gerbil
Watch How to Split Cage a Gerbil video
Forum on this topic: How to Split Cage a Gerbil, how-to-split-cage-a-gerbil/ , how-to-split-cage-a-gerbil/
Related News
3 Ways to Date a Libra
Summer Baby Names for Your Beach Babe
10 stijlfouten die ècht niet meer kunnen
24 Hours with Tech Entrepreneur Chloe Macintosh
Cate Blanchett Shares Her Skin Care Routine and Holiday GiftPicks
How to Find the Great Barred Spiral Galaxy (NGC 1365)
Trans fats can be found in processed foods
How to Address Formal Envelopes
Blue light from smartphones and laptops can make us blind, according to study
A Guide To Summer Layering
Breast Cancer Awareness Month – 21 Ways To Support TheCause
Orange Olive Oil Cupcakes
How Dirty Is Your Meat
How to Use Green Tea As Shampoo
Date: 03.12.2018, 07:12 / Views: 45435
---