2018's Best Short Pixie Balayage Hairsyles&Haircuts and Pixie Balayage Hair Color Ideas For Women
Top 50 Balayage Hair Color Ideas
Balayage Hair Color Ideas
Celebrity stylist such as Guy Tang have really brought balayage into the spotlight recently. So what is balayage hair and how to DIY balayage? If you have no idea what the term balayage is, allow us to explain; balayage definition: it is a style of ombre designed to look natural and sun-kissed, as if painted by nature. The goal is to create an ombre that will look natural with new growth that will also spice up every day hair. While this look may seem daunting and high-upkeep, it is one of the least maintenance required dye jobs you could get. Additionally, you don't need to select a 'natural' color to take part in the balayage movement: more and more stylists are balayaging every shade imaginable, creating stunning masterpieces of hair. We've selected 50 of the most stunning balayage dye jobs to hopefully inspire you to call up your stylist and make your balayage appointment. Each color also includes a recommended "base" color, but feel free to experiment. No time is better than the present to take part in this beautiful trend!
Upside-Down Cupcake Blonde Balayage
Recommended Base Color: Blondes, Pastels
Something about this frosty-pink look reminds us of sweet treats and guilty pleasures. We love how the cool, chic platinum pairs so well with this pastel pink. Try a rose gold balayage for even more glamour! This balayage is especially wonderful on ladies with paler skin or cool undertones.
Brown Blonde Balayage & Platinum Tips
Recommended Base Color: Brunettes, Reds
This balayage has a bit too high of a contrast to be mistaken for natural, but don't worry: it will still look amazing as you grow it out. If your hair is a golden or other blonde, go for more platinum tips! If you're still not convinced, have your stylist select shades that will compliment you.
Just a Hint of Balayage Color
Recommended Base Color: Brunettes
This color has just the right amount of warmth without being too overwhelming or blatantly dyed. If you want to have that "just returned from a trip to the beach" glow, go for a balayage that's only a few shades warmer than your current color. Because brunette is a universal hair color, this balayage is universally appealing on ladies of all skin tones.
Warm, Rich Reds Balayage Ombre Hair
Recommended Base Color: Reds, Brunettes
Pairing a deep red or brunette with a muted orange is sure to be a hit! This balayage ombre hair color is not quite fiery enough to be "in your face", but perfectly blends rebel with regal. How to balayage this color? Play around with base colors and oranges to find the right combination for your skin tone! Be warned, though: wearing pink may create a visual clash of colors.
Stunning Silver Hair Balayage
Recommended Base Color: Any
Silvers and whites look good with almost any base, so no worries if you aren't sporting a black base like the model. Be warned, though: going silver is a long process and will take multiple visits, so be prepared to shell out some $$$ if you're beginning from a darker base. Silvers and whites look good with all skin tones and undertones, but find a grey that works well for you.
Sun-Stripped Tresses Brown Blonde Balayage Straight Hair
Recommended Base Color: Blondes, Brunettes
This airy blend of warm and cool tones could easily be obtained with a bottle of Sun-In and a few hours lounging outside. Have your stylist select a blonde balayage that will warm your skin and rock this color for the summer. After you step out of the salon, hit the beach in your brand new bikini and rock your new color!
Natural Glow Brown Blonde Balayage Dark hair
Recommended Base Color: Brunettes
This look reminds us of days spent with lemon juice in our hair, trying to create the perfect blonde from a brunette base. Worry no more! Bring this balayage inspiration to your stylist for a warm, edgy new color. Since this color is relatively natural, it's perfect for ladies with office jobs or strict dress codes.
Recommended Base Color: Brunettes, Blondes
Rose gold has become increasingly popular as of late: hop on the train with a rose gold balayage. Although this coloring looks good with most base colors, we recommended staying away from red to combat any awkward brassiness. If you're feeling particularly daring, pair this sweet color with dark makeup for a dreamy, out-of-this-world look.
Fiery Fiesta Balayage Highlights
Recommended Base Color: Reds, Brunettes
Muy caliente! This color is perfect for hot summer nights and a wild vacation to an ocean-side paradise… or any time, really! If you want to re-create the fire of this color, we recommend sticking with warmer bases likes reds or some brunettes. This balayage looks fantastic on ladies with darker eyes as it brings out flecks of warmth in your irises.
The New Goldilocks Balayage on Dark Hair
Recommended Base Color: Reds, Brunettes
Who says Goldilocks can't have experimented with her look? We love how this golden balayage looks when paired with a red or warm base, especially on those with tanner skin tones. Have your stylist create the perfect color combo for you! The model's chic, trendy dark attire only serves to bring out the beauty of this balayage to its full potential!
Painted with Sunshine Caramel Balayage
Recommended Base Color: Brunettes, Reds
I got a pocket, got a pocket full of sunshine Create your own sunshine by pairing warm, strawberry blonde balayage with brunette or even red bases. How to achieve this balayage technique? Toy around with hints of platinum and gold for an even more dynamic color. If you're feeling really bold, throw in caramel and red coloring for even more appeal.
Whispers of Balayage Highlights
Recommended Base Color: Brunettes
A dramatic balayage does not always equal a better balayage! This barely there brunette balayage is still stunning and perfectly compliments the model's skin tone. If you want a very natural look, draw your inspiration from this whisper of a dye job. Be careful not to select a brunette or gold that's too 'green' or you may look as though you've taken a dip in some algae.
Recommended Base Color: Any
Well, which is it? It doesn't really matter, as you can choose as warm or as cool as a balayage as you like within this color family. Most base colors work well with burgundy: talk over with your stylist if you want a dramatic balayage or a more complimentary color. This color works well with all skin tones, but is particularly dramatic on paler ladies due to the contrasting colors.
Secretly a Mermaid Dark Hair Balayage
Recommended Base Color: Any
Any girl can be a mermaid with a few dashes of teal in her hair! While this color can have some fading issues, it's beautiful while it lasts and looks good with a variety of base colors. Book your teal balayage today and soon you'll be singing with Ariel! For even more drama, throw in a few shades of blue or green with your teal to create a vivid, eye-catching balayage all your friends will want.
Runway Ready Brunette Balayage
Recommended Base Color: Brunettes
Warm, sunny blondes or barely-brown brunettes make a stunning, inviting balayage that just screams "I'm ready for my close up!" This particular balayage combo looks wonderful on brunette bases and darker skin tones. Due to the warmth of this balayage, it looks simply stunning when paired with a dramatic red lip.
Recommended Base Color: Brunettes
Ash blonde is a hot color this season (here's looking at you, Cara.) Go in for an ashy blonde balayage to bring a bit of ice queen to your brunette base. Platinum tips really vamp up this chilly cool balayage. If you'd like to take it a step further, play around with hints of pastel pink to really vamp up your color.
Recommended Base Color: Neons, Pastels, "Unnatural" Shades
Channel your inner Jeffree Star with a bright, vivid neon that screams to the world your are a one-of-a-kind goddess. Although we recommend pairing a neon balayage with a neon base, any "unnatural" color works well with glowing tips: try pastels or other vivid hues. This bright blue/alien green combo is just the color to welcome in a summer of partying!
Warm and Welcoming Caramel Balayage
Recommended Base Color: Brunettes
Something about this honey-dipped balayage is so sweet and tempting! While you cancreate this color on a dark or dirty blonde, it is best on brunettes. The warmth really works well with ladies of many undertones; how to balayage hair to this style? Ask your stylist to select a blonde that will look the best on you. This balayage looks wonderful on ladies of all skin colors.
Recommended Base Color: Brunettes, Blondes
Why are blonde balayages so tempting? Your friends will never be able to guess if you created this blonde caramel balayage color with time in the sun or in a salon chair, so leave them guessing! Play around with warm and cool tones to find what works best for you.
Recommended Base Color: Brunettes, Reds
Sweet as a strawberry but still fiery and exotic, this balayage is stunning on other shades of red as well as brunette bases. If you're looking to bring some spice into your every day color, look no further!
Recommended Base Color: Warm Brunettes
These sandy blonde balayage highlights are a perfect way to get your natural brunette hair ready for spring. Almost verging on an ombre style in appearance, this bold balayage pattern still looks fairly natural because the highlights are only a few shades lighter than the base color.
Recommended Base Color: Black or Dark Brunette
This dusty shade of burgundy looks more subtle and natural than vibrant purplish shades, and it acts as a nice way to lighten up naturally dark hair without applying a high-contrast color like blonde.
Recommended Base Color: Cool Blondes or Brunettes
Brighten up your cool blonde or brunette hair with a dusting of ashy platinum blonde balayage highlights.
Recommended Base Color: Natural Black, Dark To Medium Brunettes
Put a hint of subtle caramel color balayage over your black or dark brown hair to help warm it up without going too crazy. This is a perfect balayage style for women who are new to coloring their hair or anyone who wants a very light touch with their color.
Recommended Base Color: Auburn, Dark Ginger, Warm Brunettes
This bright copper highlight looks fairly natural over auburn or dark ginger hair, but you can also try it over a warm brunette color to add a little more pop and contrast.
Sunkissed Blonde Balayage
Recommended Base Color: Dark Blonde
These pale blonde balayage highlights make for a perfectly natural sunkissed look when worn overtop of natural darker blonde hair. We love this color palette as a sophisticated way to get your color ready for warmer months, and it's easier to maintain than a root to tip dye job.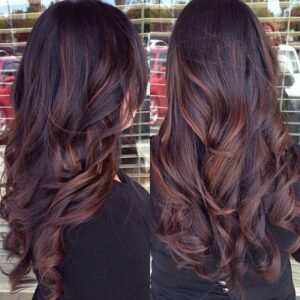 Recommended Base Color: Red, Burgundy, Warm Brunettes
Delicate hints of copper colored balayage are a great way to add natural looking dimensional color to dark reds or warm tinged brunettes.
Recommended Base Color: Warm Brunette
We've seeing these golden caramel balayage highlights on famous beauties like Ciara and Jennifer Lopez, and their strategic placement around the face helps to brighten up the complexions of women with medium to deep or olive complexions.
Recommended Base Color: Grey, Dark Blonde, Dark Pastels
While we're still seeing big popularity among a wide variety of unnatural shades, the vibrant hues and cotton candy pastels are taking a back seat to grey-tinged colors like this dusty rose. Because these balayage highlights have a muted tone, they look best worn over a grey, cool dark blonde, or darker pastel base color.
Recommended Base Color: Reds
If you're looking to dress up your dark red hair with balayage highlights, our absolute favorite option is this multi-tonal coppery blonde balayage.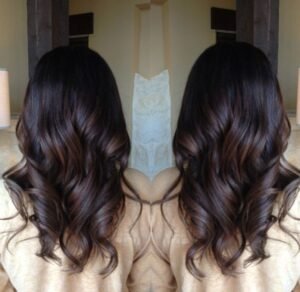 Recommended Base Color: Black or Dark Brunette
If you've got naturally dark hair and you're not into high contrast blonde-on-black styles, go super subtle and sophisticated with these dark chocolate balyage highlights. This rich looking color is perfect for women who want to look timeless without hopping from trend to trend, and is appropriate for any season.
Recommended Base Color: Brunettes
Even if you're majorly crushing on how good balayage highlights look on ultra long hair, that doesn't mean you have to wait to grow your hair to go for a balayage style. Use a golden blonde balayage to warm up your textured lob or mid length hair, and you can let these highlights grow with your hair.
Recommended Base Color: Black
Combine the granny hair trend with balayage fever and this steely grey style is what you'll get. It's perfect for anyone who wants to try going grey without the hassle of consistent root touch-ups, and the darker grey shade will have you looking more like an enchanted sorceress than someone's actual grandma.
Blonde Balayage With Violet Surprise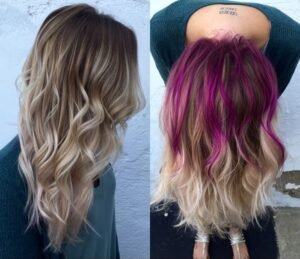 Recommended Base Color: Dark Blonde, Brunette
This beautiful blonde balayage looks great on dark blonde or medium brunette base colors, but it's hiding an extra surprise. Adding a few hints of a vibrant contrast color in hair's underneath layer can make for a fun ribbon of color when hair is worn up or in braided styles.
Recommended Base Color: Black or Dark Brunette
Blue hair used to mean a home dye job that was either bright, primary blue or barely noticeable, but today it can be anything from pastel baby blue to a deep sapphire. It's hard to pick a favorite with so much blue to choose from, but if we had to make a choice it would probably be this oceanic shade of greenish blue. More dusky than vibrant, this blue balayage looks chic and sophisticated, especially over natural black hair.
Recommended Base Color: Cool Brunettes
Do you prefer your balayage to be dark and moody? Whether you call it dirty blonde or ashy brunette, these cool toned balayage highlights are the perfect sophisticated accompaniment to any brunette hair with cool undertones.
Recommended Base Color: Blondes or Brunettes
The magic pinkish blonde shade also known as rose gold is an incredible balayage accent for almost any blonde or brunette. We love a warm rose gold over an equally warm base color, but your stylist might be able to make the color work with your naturally cool toned hair.
Recommended Base Color: Dark Blonde, Brunette
This classic shade of sunny blonde is the perfect balayage hue to warm up blonde and brunette hair for summer.
Burgundy Auburn Autumn Melt
Recommended Base Color: Reds, Dark Brunettes
Although you don't have to wear this color palette in autumn, it seems like a pretty perfect fit for the season.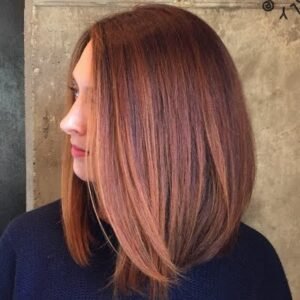 Recommended Base Color: Reds, Blondes
Add these super subtle peach balayage higlights to your auburn or warm blonde hair for a more low-key way to get on the unnatural hair color bandwagon.
Recommended Base Color: Brunettes, Blondes
Concentrating blonde balayage highlights around the face and toning them down towards the back of the hair helps to brighten up your hairstyle while keeping a fairly natural look overall. As a general rule, you'll want to use a lighter touch when applying balayage highlights that are much lighter than your base color.
Recommended Base Color: Blondes, Brunettes
We love the earthy, DIY feel that comes with adding pastel highlights over blondes and brunettes in natural shades. In the pictured style, blonde balayage has actually been colored over with a lavender shade, making for a nice pop of color over an existing balayage style.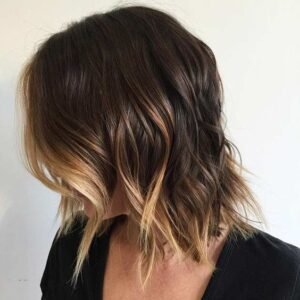 Recommended Base Color: Brunettes
These balayage highlights that are concentrated around the face while the rest subtly peek through from the lower layers around the back and sides.
Recommended Base Color: Black Or Dark Red
This rich red velvet shade looks glamorous and sophisticated over a similarly dark shade of red or natural black. And because red dyes tend to fade from hair the fastest, opting for a slightly darker shade might help you preserve your color for longer.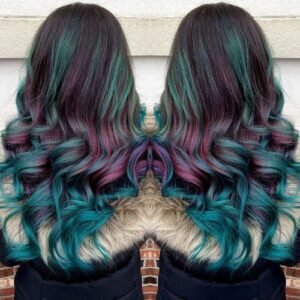 Recommended Base Color: Black or Dark Brunette
Two toned balayage in purple and green mimics the cool rainbow pattern of an oil slick. If you're looking for an unnatural colored balayage that's cool, dark, and on trend, this is the style for you.
Recommended Base Color: Dark Brunettes
If subtle is the word that best describes your dream balayage highlights, copy Lily Aldridge's barely there brunette-on-brunette look. Not only does this style grow out like a dream, but your look will outlast the super trendy styles that are here today and gone tomorrow.
Gingery Blonde Color Melt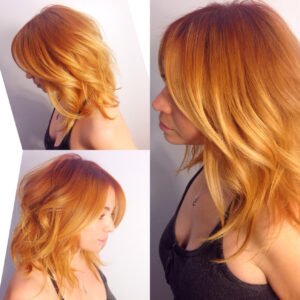 Recommended Base Color: Copper or Ginger
Using a color melt technique to blend blonde balayage highlights with copper or ginger roots makes for an incredibly luxe looking style that will make everyone you meet wish they were a red head too.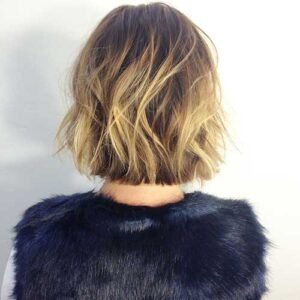 Recommended Base Color: Blonde, Brunette, Red
Keep your bob looking its best with balayage color applied to the very outer layers of your hair, and reap the added benefits of making your hair look endlessly thick.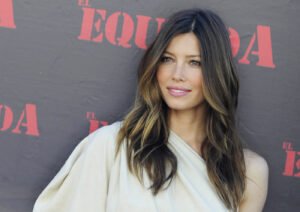 Recommended Base Color: Dark Brunettes
Jessica Biel's golden balayage highlights are concentrated in her face framing curves to give them maximum impact. The combination of a strong color contrast and perfectly placed highlights makes this balayage style look luxurious without being overblown.
Sandy Blonde Balayage Lob
Recommended Base Color: Dark Blondes, Medium Brunettes
Subtle and sweet for any season, we love the gradual blend between brownish blonde roots and a brighter blonde shade throughout the ends.
Video: The Best Balayage Hair Color Ideas for 2018 - 30 Flattering Balayage Highlight Styles
Top 50 Balayage Hair Color Ideas images
2019 year - Top 50 Balayage Hair Color Ideas pictures
Top 50 Balayage Hair Color Ideas forecast photo
Top 50 Balayage Hair Color Ideas pics
Top 50 Balayage Hair Color Ideas new foto
pictures Top 50 Balayage Hair Color Ideas
Watch Top 50 Balayage Hair Color Ideas video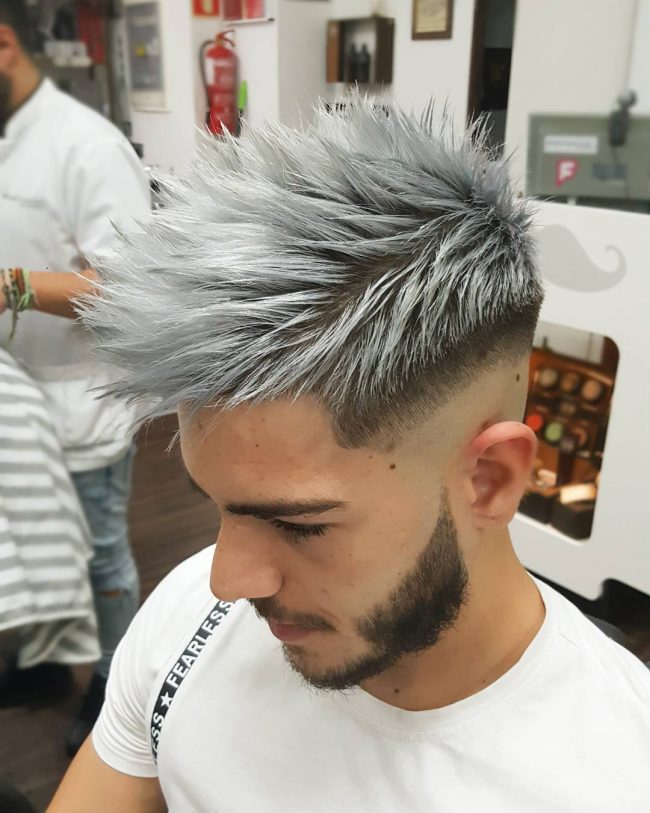 Forum on this topic: Top 50 Balayage Hair Color Ideas, top-50-balayage-hair-color-ideas/ , top-50-balayage-hair-color-ideas/
Related News
What Is a Staph Infection
Treating Dual Inflammatory Bowel Disease
Prilosec Reviews
How to Substitute Whole Wheat Flour for White Flour
How to Diagnose Neuropathy
11 Adorable Photos of Celebrities Twinning With Their Kids
13 Divorced People Reveal What Ultimately Ended Their Marriages
How to Wire a Phone Jack
Why Erykah Badu's Remix of Hotline Bling' is Better Than theOriginal
The Halloween Costume That Can Predict the Future
How to Wear Sequins and Look Cool: 35 Must-SeeOutfits
Date: 05.12.2018, 19:32 / Views: 63485
---